You're not just a customer –
you're a friend.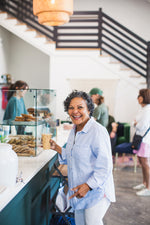 Founded with a genuine desire to bring people together, Wake Up Coffee Co is more than a coffee shop — it's a community. 
Nestled in the heart of our vibrant little island, we've become a hub for coffee enthusiasts, creative minds, and friendly faces. 
Here, you're not just a customer – you're a part of our community. A community of dreamers, thinkers, creators & everyday heroes. Just as every coffee bean has its unique flavor profile, we cherish the individual stories, dreams, and passions that make you, YOU.
Our dedication to serving our community extends from our local coffee shop locations to our globally responsible sourcing. We build relationships with the farmers and families who grow our coffee, ensuring they are fairly supported and that our roasting methods honor their hard work and legacy.
We're not just about serving great coffee; we're about serving stories. We delight in sharing and uplifting the incredible work and projects of our friends and neighbors, knitting us all closer together.
Ethically sourced, single origin coffees - roasted on St. Simons Island